Nyungwe Forest Lodge
West, Rwanda
OVERVIEW
The Nyungwe Forest Lodge is located in an expansive tea plantation on the edge of Nyungwe Forest, overlooking the forest canopy in a ridge below. With 13 different species of primate including chimpanzees, and 275 bird species, Nyungwe Forest Lodge is a spectacular destination for safari enthusiasts.
PRACTICAL INFO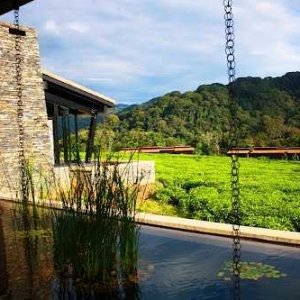 Location
The driving distance from Kigali city centre is 250 km and the driving time is 4 to 5 hours travelling at speeds of approximately 60km per hour average.
Helicopter charter flights can be arranged from Kigali International Airport at an additional cost and weather permitting. Daily Rwandair flights from Kigali to Kamembe are available, weather permitting.
Accommodation
There are 24 spacious and contemporary en-suite rooms, all with air-conditioning, private verandah and open fireplace for a cosy warmth at night.
Services
Track for chimpanzees Black and White Colubus monkeys, Grey-cheeked Mangabeys, blue and golden monkeys. Guided walks, bird watching and walking trails are available at the Lodge. Heated infinity pool water overlooks the jungle. 'Relaxation retreat' with two treatment rooms and Jacuzzi also available at the Lodge.
BEST TIME TO EXPERIENCE
From July to September and from December to january
CONNOISSEUR'S INSIDER TIP
If you are looking to splash out, opt for one of the two presidential suites in separate villas on wooden stilts. All the rooms have views to the Nyungwe forest canopy from the verandahs.