Capri, Hotel Punta Tragara
Italy, Capri
OVERVIEW
The Punta Tragara Hotel is one such jewel, standing as it does in a unique location overlooking the blue Capri sea right at the legendary Faraglioni cliffs. This extraordinary and unique setting, together with the hotel's striking architecture, a creation of the genius Le Corbusier, can now be admired from refurbished splendour, thanks to which the hotel blends in with nature even more harmonically, respecting and enhancing the island's uncontaminated beauty.
PRACTICAL INFO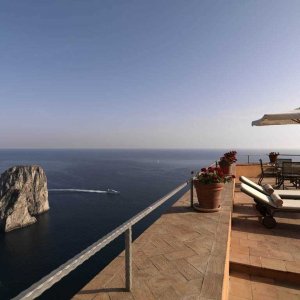 LOCATION
It is only a 15 minute walk from the famous little Piazzetta square, a walk which brings you to the Via Camerelle which is Capri's prime shopping street and the Via Tragara one of the most beautiful walks on the island. The location is one of the most perfect on Capri - not too close, not too far from the frenetic streets of the town, a fifteen minute saunter along the beautiful Via Tragara. The location is dramatic, with amazing panoramic views out over the Faraglioni rocks and the azure sea.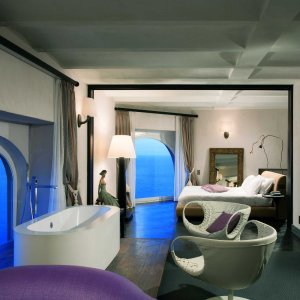 ACCOMMODATION
The Hotel has 44 rooms and suites, no two of which are the same, and all of which have their own unique decor, panoramic position and furnishings. Each room leaves its own inimitable and indelible mark.
The suites are fairytale settings in which you can make your dreams come true. The luxury suites of the Hotel Punta Tragara are spacious and bright with a living area and separate bedroom area and fabulous large terraces with seaview on the Faraglioni in Capri.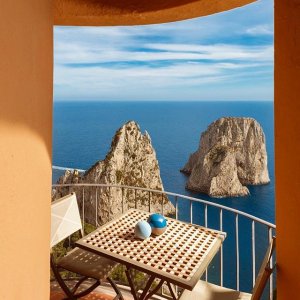 SERVICE
The Hotel Punta Tragara's two swimming pools are an ideal extension of the blue sky. The hotel's gym is in the pool area with lovely views of the Mediterranean gardens and has a treadmill, a cyclette and a new Technogym Kinesys machine which is ideal for toning up the body during your holidays in Capri. The innate good taste which is to be found throughout the Punta Tragara is also found in the refined menus in the Monzù Gourmet Restaurant and in the La Pergola Pool Bar.



BEST TIME TO EXPERIENCE
From April to October