Florence, Portrait Firenze
Florence, Italy
OVERVIEW
The Portrait Firenze, a tribute to the timeless luxury of haute couture: a private residence just a heartbeat away from the River Arno and Ponte Vecchio.
PRACTICAL INFO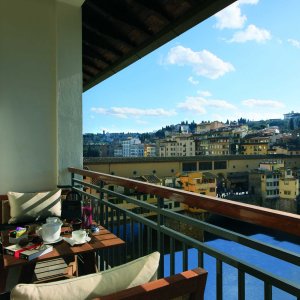 Location
The new Portrait Firenze is a tribute to the timeless luxury of haute couture, with its colors, materials and details. From its privileged position overlooking The Arno River, the hotel is just moments from the richness of Florence's art and history, its fashion and food. Set in the most desirable section of the city, it offers a sense of calm and tranquility reminiscent of a lavish townhouse. Yet it is only few steps from Palazzo Vecchio and Piazza della Signoria. The Ferragamo family owns the hotel; try to spot a young Salvatore in the framed portraits on the walls.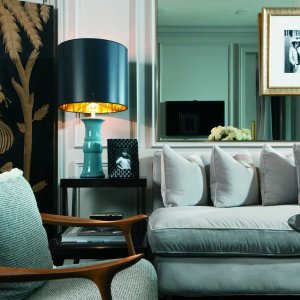 Accomodation
Its sophisticated rooms and suites were designed by Florentine architect Michele Bönan, connoisseur of a deeply personal style that is harmonious yet surprising, classic yet contemporary in its nostalgia for a perfect bygone era. Guests can expect unsurpassed Italian luxury including bespoke vintage furniture produced by Italian manufacturer Tosconova; hand-picked Carrara marble covering each bathroom; an extensive pillow menu catering to each guest's preference; luxe terry bathrobes with Salvatore Ferragamo bath amenities; cotton satin mako bedding; superb fabrics with gold details; and warm hued wood furniture. Bonan also focused on the maximization of light with oversized windows and rooms that allow natural light to fill each space and emphasize the property's unparalleled views of the river and surrounding city.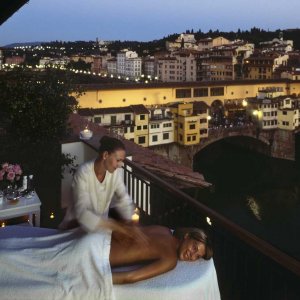 Services
Amenities include an optional breakfast buffet, concierge service, and grocery delivery, and the hotel has several dining options, including the Sky Lounge Bar, located on the rooftop next door. The Caffe dell Oro, the new Lungarno Collection restaurant by the Portrait Firenze hotel, offers all this and more. It features the most beautiful views over the Ponte Vecchio. It is a "salon with kitchen", warm and inviting. But most of all, it is a place to appreciate flavors. The Lifestyle Team takes care of every guest whim: from reserving the "impossible-to-book" restaurant table to organizing private tour of the City. Guests have access to a range of exclusive privileges like discounts to the Salvatore Ferragamo boutiques or to the nearby White Iris Beauty Spa.
BEST TIME TO EXPERIENCE
All year round
CONNOISSEUR'S INSIDER TIP
The lungarni (roads along the Arno) can be noisy with the sound of the motorini (mopeds) zipping by. The Lungarno Suites are sound-proofed, but a room on a higher floor cuts down on the noise considerably.