AndBeyond Sossusvlei Desert Lodge
Namib Desert, Namibia
OVERVIEW
Amidst red sand dunes in the Namib Desert lies elegant and unique AndBeyond Sossusvlei Desert Lodge. Redesigned in 2019, it is the most exclusive and luxurious location set in one of the oldest, driest and most pristine areas on Earth.
PRACTICAL INFO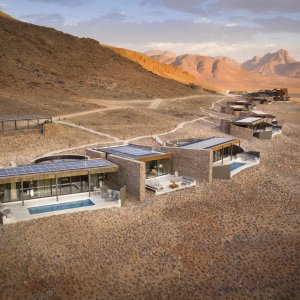 LOCATION
Surrounded by dunes and desert mountains, andBeyond Sossusvlei Desert Lodge is located at the base of the foothills surrounding the NambiRand Nature Reserve. Although it seems secluded there are scheduled daily charter flights to the lodge's private airstrip. For those interested in self-driving, the lodge is a 400-kilometer drive from Windhoek and a 380-kilometer drive from Swakopmund on good quality gravel roads.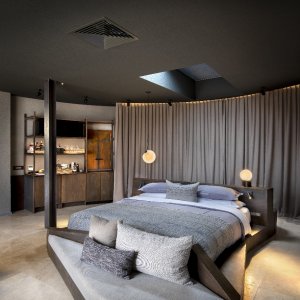 ACCOMMODATION
A spectacular masterpiece of glass, rock and steel pavilions with a bold geometric structure at its center, the lodge extends over vast dunes and gravel planes, in perfect harmony with its elemental surrounds. There are 10 exquisite suites and the two-bedroomed Star Dune Suite. Each suite is equipped with air-conditioning, in-room fireplaces, WI-FI in suites, outdoor showers, and star-viewing skylights.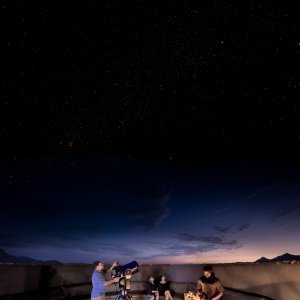 SERVICES
Apart from shades of the desert, you will be amazed the moment you look in the sky and you will finally become the most passionate stargazer. Here, this magic brightness is combined with knowledge of a professional astronomer located in the camp's own observatory. It is a sight wondrous to behold. Add to that lodge swimming pool, wellness treatment room, gym with desert views and unforgettable dune dining and you'll never want to leave this place. Experience hot air ballooning flights, climbing or e-biking along the desert and indulge in an authentic African spa experience combined with sand, stars and silence.
BEST TIME TO EXPERIENCE
From May to October