Nizwa, Alila Jabal Akhdar
Nizwa, Oman
OVERVIEW
Alila Jabal Akhdar is perched in a dramatic location up in the Hajar Mountains of Oman, with spectacular views over the valley below. Opened in 2014, it brings a new level of luxury to the area, combining comfort with an eco-friendly outlook.
PRACTICAL INFO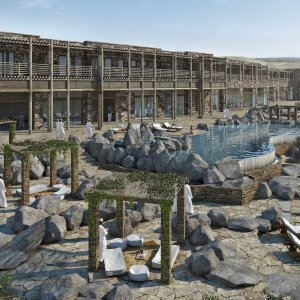 Location
Very few hotel locations are more dramatic than that of the Alila Jabal Akhdar. The hotel stands on a cliff top above a gorge with breathtaking views out over the Al Hajar Mountains. It is ideally positioned to explore Oman's rugged landscape and is the perfect escape for those who like their holidays to take them a bit more off the beaten track - the hotel in only accessible by Four-Wheel Drive and is 2,000 metres above sea level.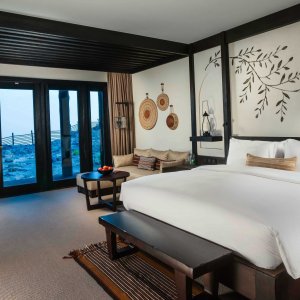 Accomodation
The wilderness setting does not mean compromising on comfort. The Alila Jabal Akhdar features 78 Suites, six Loft Suites and two Jabal Villas. The décor is inspired by the rich culture and natural beauty of the surroundings, with a refreshing modern twist. Committed to a sustainable future, the hotel is designed to fit seamlessly into the landscape. The rooms include all the modern commodities such as satellite TV, an in-room safe and Wi-Fi. The bathrooms include a rain shower and separate bath - perfect for relaxing in after a day's adventures. For extra added luxury, the Jabal Villas come with their own private pool.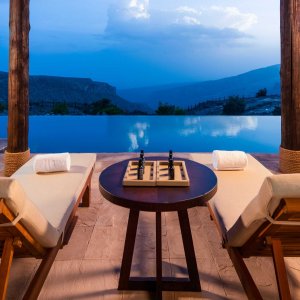 Services
The resort's all-day dining restaurant, the Juniper Restaurant, serves a variety of local and international dishes, which you can enjoy whilst looking out over the fantastic views. The Rose Lounge offers refreshing beverages and light bites throughout the day. After exploring the local area, head to the Spa Alila, which features local and Asian inspired spa therapies, with treatments derived from regional healing and beauty traditions. Your experience at Alila Jabal Akhdar can be tailored to what you would like to get out of your trip, whether this it's to learn more about the local history and culture, enjoy the great outdoors with some more active pursuits, or even try your hand at the local cuisine.
BEST TIME TO EXPERIENCE
From September to April
CONNOISSEUR'S INSIDER TIP
Enjoy delicious cuisine at Juniper Restaurant and soak up magnificent views of the Hajar Mountains.