Alfajiri Villas
Diani beach, Kenya
OVERVIEW
Considered by many as the finest Villas on the East African Coast, Alfajiri Villas overlook the Indian Ocean and theirs elevated positions ensure privacy and stunning views. African Style villas where the theme is high Makuti roofs, ivory Danish floors, wooden beams, Lamu doors and impressive African and Far Eastern Artefacts. Most of the furniture is made on the property in the villa's workshop. The gardens are meticulously maintained and include many palms from the villa's nursery. Large verandas with huge hand carved sofas with cushions dominate the front of the villas where a stretch swimming pool sits on the edge of a small cliff merging into the sea and the horizon.
PRACTICAL INFO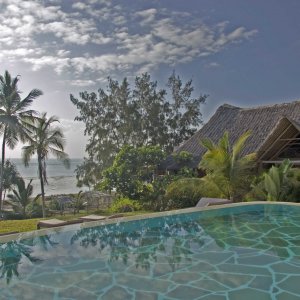 Location
Alfajiri Villas are located on Diani beach, an hour's drive south of Mombasa.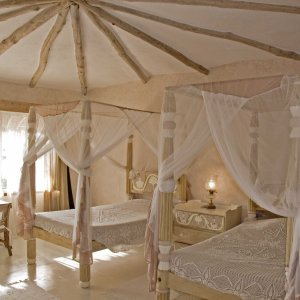 Accommodation
The villas range in size from the Cliff Villa which sleeps 8 with exclusive use of an infinity pool and unlimited use of the local, international standard golf course, to the Garden and Beach Villas which sleep 4 and 8 respectively and have private access to the beach. Each villa is different in style from bright and airy Caribbean style bedrooms to a romantic turret suite.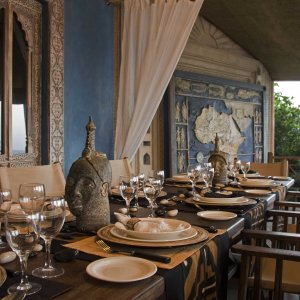 Service
Fresh seafood is brought daily to order from the beach includes some of the best crab, prawns, lobster and sea fish available. The Mediterranean influenced cuisine is as impeccable as the service.
BEST TIME TO EXPERIENCE
From December to March
CONNOISSEUR'S INSIDER TIP
Indulge yourself in the sheer luxury of Alfajiri Villas, especially the warm hospitable service making your stay here truly unforgettable