Cote d'Azur, Four Seasons Grand-Hotel du Cap-Ferrat
Cote d'Azur, France
OVERVIEW
The French Riviera is home to one of the world's most iconic resorts: The Four Seasons Grand-Hôtel du Cap-Ferrat has occupied an enviable place between Nice and Monaco since 1908. It is surrounded by seventeen acres of gardens, updated by renowned landscape artist Jean Mus, and boasts some of the region's best views.
PRACTICAL INFO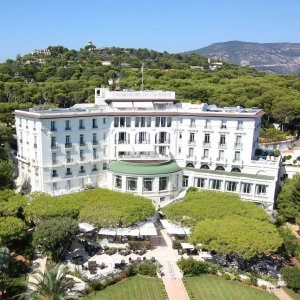 Location
Housed in a pristine white mansion between Nice and Monaco, the Grand-Hôtel du Cap-Ferrat is nestled amidst 17 acres of lushly landscaped gardens with panoramic view on the Mediterranean. Leopold II of Belgium declared, at the beginning of the twentieth century, that the magnificent landscapes of Alpes-Maritimes were, in a sense, Paradise on earth. Bathed in an azure halo of light, Cap-Ferrat remains as dazzling and fascinating a corner of Paradise now as it was then. It was in the heart of this peaceful paradise of wild beauty overlooking the Mediterranean that the Compagnie Hôtelière des Centres de Tourisme Automobile chose to build, in 1908, the Grand-Hôtel du Cap-Ferrat.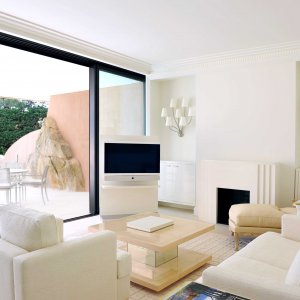 Accomodation
All Four Seasons Grand-Hôtel du Cap-Ferrat rooms are tastefully decorated by interior designer Pierre-Yves Rochon, with elegant and modern furnishings where you will feel instantly at home. The white linen and natural beige & white silks gently illuminate the room and highlight the picture-perfect view over the grounds and gardens. Interiors are elegant and understated, with cream-and-white marble and the occasional touch of color: a Murano glass chandelier here, a vibrant tapestry there. The Residence Wing features suites with massive glass-paneled sliding doors that open onto terraces and private plunge pools.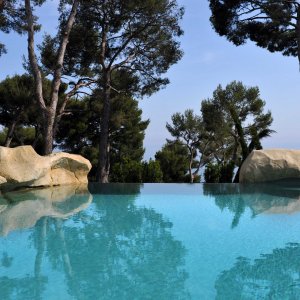 Services
Elegant 750 m² Spa by renowned interior designer Pierre-Yves Rochon has an exclusive range of signature facial and body treatments by prestigious brands Bellefontaine and Carita. Michelin-starred Executive Chef Didier Aniès, Meilleur Ouvrier de France 2000, oversees the three restaurants of the Grand-Hôtel du Cap-Ferrat. The three restaurants have been redesigned: 'La Véranda' All day dining restaurant, 'Le Cap' the gastronomic restaurant with 1 Michelin Star and "Le Club Dauphin" the private beach club restaurant with the Olympic pool and seaside daytime meals.
BEST TIME TO EXPERIENCE
From May to September