MAIA Luxury Resort & Spa
Mahe Island, Seychelles
OVERVIEW
Peace and Privacy. A place where you can truly be yourself is the greatest luxury in the world. Discover this luxury on private peninsula on the island of Mahe in the Seychelles where the sands of the secluded Anse Louis beach are washed by the timeless tides of the warm Indian Ocean. It is a palm filled private paradise of lush tropical gardens with a policy of absolute discretion that ensures complete freedom. Enter the gates and leave the world behind.
PRACTICAL INFO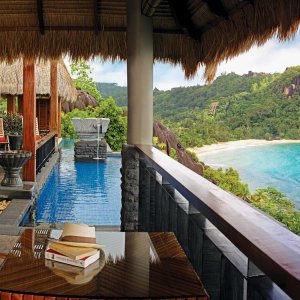 Location
Fronting a secluded beach and surrounded by award-winning gardens, Maia is situated on a private peninsula on the west coast of Mahé island in the Seychelles, 20 km from the Victoria and 10 km from Seychelles International Airport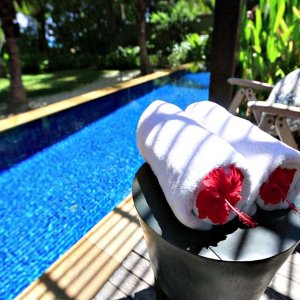 Accommodation
Eight Ocean Front Villas, three Ocean View Villas, 11 Ocean Panoramic Villas and eight Maia Signature Villas (one with its own private beach) are beautifully decorated with warm earthy tones, Thai silks and teak woods, offsetting spectacular ocean views. Each includes a spacious bedroom with TV, DVD, iPod station and cosmetics fridge, leading into a bathroom with indoor shower and La Prairie amenities. Outside, a private 8 x 4 metre pool and an oversized sunken bath await, allowing you to bathe under the stars overlooking the ocean. The adjacent gazebo with an oversized day bed and bar, is perfect for alfresco dining or private spa treatments.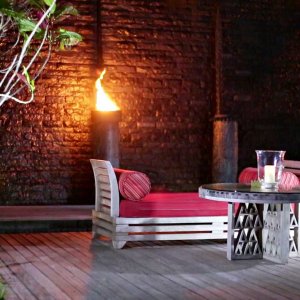 Services
Take time out to enjoy leisurely walks and romantic dinners on the sand, or borrow a kayak and some snorkelling equipment to explore the surrounding ocean. Savour some of the most amazing cuisine in the Seychelles at Tec-Tec Restaurant. The chef and sommelier will be delighted to create a menu to suit your tastes, perhaps simply-cooked fresh tuna or a rare fillet of beef? Escape the heat of the day and head to the La Prairie spa, an oasis of cool and calm. Try the Gentle Soul Massage, a series of slow massage strokes synchronised with the breath, to deeply and gently soothe tired muscles. Maia is family-friendly and children are treated as very important guests.

BEST TIME TO EXPERIENCE
From March to November
CONNOISSEUR'S INSIDER TIP
Spoil yourself with dining at the famous Tec-Tec Restaurant at Maia the only gourmet restaurant on Mahe and is for the exclusive use of residents only.