Abu Dhabi, Jumeirah at Etihad Towers
Abu Dhabi, United Arab Emirates
OVERVIEW
Rising majestically from its beachside setting, Jumeirah at Etihad Towers' dramatic sculptural form and spectacular design set a new standard for luxury hotels in Abu Dhabi. The complex is made up of five towers – three residential towers, one office tower, and the Jumeirah at Etihad Towers hotel.
PRACTICAL INFO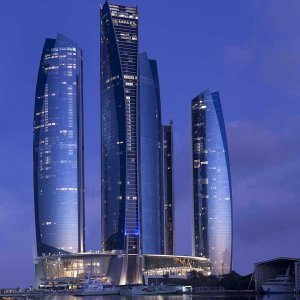 Location
Jumeirah at Etihad Towers Abu Dhabi - part of a new iconic five towers complex in the capital of the UAE is bordered by the sea on one side and the fashionable Corniche on the other. It is easily accessible from the airport and close to Abu Dhabi National Exhibition Centre ADNEC- the city shopping malls- the central business district and Ministries area. Allow yourself to absorb the inspiring beauty of world-class contemporary design and seamless detail, enhanced by sweeping views of the Abu Dhabi coastline.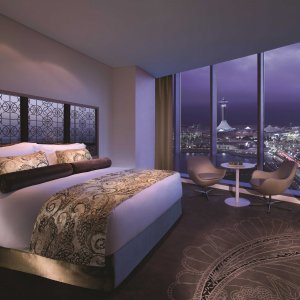 Accomodation
Regarded as Abu Dhabi's most exclusive and prestigious residences, the 199 serviced apartments embrace world-class luxury. Each studio, one-bedroom, two-bedroom and three-bedroom apartment is designed to cater to your every need and will make your stay with us relaxing as well as productive. Jumeirah at Etihad Towers offers a selection of 382 uniquely designed rooms and suites. Ranging in size from 40sqm to 980sqm, each accommodation offers wireless Internet access as well as cutting-edge entertainment systems with iPod and MP3 docking stations for your convenience.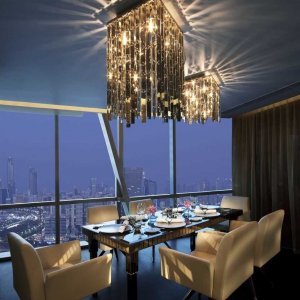 Service
Whether you prefer to spend your time cooling off in one of our three swimming pools, strolling along the glorious private beach, treating yourself to some of the best retail therapy to be found in the Middle East, or being pampered in the Talise Spa, you'll find the service is second to none. Passing the morning in the Rasoul suite or Hammam suite sounds particularly pleasing at the moment…Regardless of where you arrive from, your experience at Jumeirah at Etihad Towers will be smooth and exotic.
BEST TIME TO EXPERIENCE
From October to April
CONNOISSEUR'S INSIDER TIP
Indulge in a memorable private dining experience at Quest, Li Beirutor Scott's. Whether you are looking to impress your favourite clients orwould like to have a one of a kind family dinner, the venues make for anunforgettable experience for you and your guests.