Dubai, Burj Al Arab
Dubai, United Arab Emirates
OVERVIEW
This legendary and symbolic hotel has attracted international attention and awe, ensuring its place as one of the most photographed structures in the world, and consistently voted the worlds most luxurious hotel. Designed to resemble a billowing sail, Burj Al Arab soars to a height of 321 metres, dominating the Dubai skyline. Illuminated at night by choreographed lighting representing water and fire – Burj Al Arab is simply individual, inspired, impressive.
PRACTICAL INFO
Location
Located on a private island with private beach access, Burj Al Arab offers seclusion amid the bustling streets and beaches of Dubai. Take a 15-minute walk to Souk Madinat Jumeirah or for water sports activities at Wild Wadi Waterpark, just a 5-minute walk across the island bridge.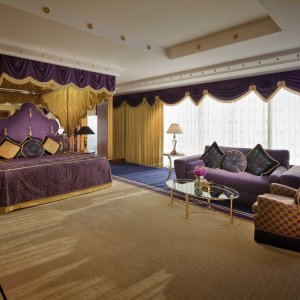 Accommodation
Burj Al Arab is an all-suite hotel comprising of 142 deluxe suites, 18 Panoramic suites, 4 Club Suites, 28 Two-Bedroom suites, 6 Diplomatic Suites, 2 Presidential Suites and 2 Royal Suites. Suites offer beautiful views over the Arabian Sea and range in size from 1800 sqft to 8400 sqft. The Deluxe Suites feature a living room, located on the ground level, a large lounge, a dining table for 4 guests, a private bar counter, a luxury guest toilet, and a complete Business Centre consisting of a work desk, laptop, printer, private fax/telephone service and data port. The spiral staircase leads to the bedroom (with king-size bed), luxury bathroom with a Jacuzzi bath and large walk-in shower, dressing room and a large private safe.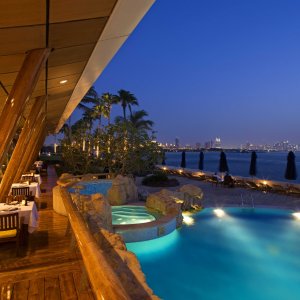 Services
For the height of indulgence, guests can charter a private yacht, with a butler, hostess and chef on board to cater to every need. A Spa therapist can be arranged to provide a selection of luxury pampering treatments on board of the yacht. Alternatively, guests can sunbathe alongside the lavish pool with magnificent views overlooking the Arabian Gulf or stroll along Burj Al Arab's private stretch of Jumeirah Beach. Burj Al Arab's signature restaurant Al Mahara serves seafood specialities and features an expansive glass wall looking into the aquarium, and The Sky View Bar is suspended 200 metres above sea level. Al Muntaha restaurant is ideal for afternoon tea and cocktails.
BEST TIME TO EXPERIENCE
From October to April
CONNOISSEUR'S INSIDER TIP
Guests can ride private golf carts to other Jumeirah resorts, the local shopping area and beaches.