Arosa, Tschuggen Grand Hotel
Arosa, Switzerland
OVERVIEW
Founded in the early 20th century, the Tschuggen Grand Hotel today is known for its ultramodern Mario Botta–designed Tschuggen Bergoase spa. The 5,000-square-meter, four-floor complex is built directly into the mountain and connected to the hotel by a glass walkway. Another star designer, Carlo Rampazzi, conceived the vivid interiors, notable for their spectacular mix of color, texture and pattern.
PRACTICAL INFO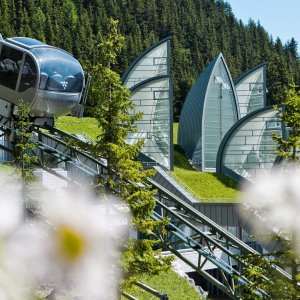 Location
The Graubünden landscape provides its own magical scenery, and at 1,800 meters above sea level, the hotel is an ideal base from which to enjoy outdoor activates from Alpine and cross-country skiing and horse races on a frozen lake, to hot-air ballooning and delta gliding.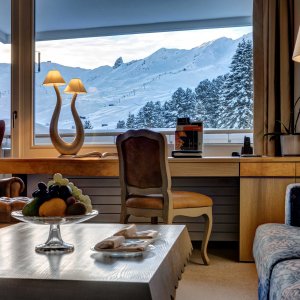 Accomodation
Spend your summer holidays in Arosa or skiing holidays in Graubünden and make your dreams come true – with your partner, your family or just by yourself for once. Immerse yourself in the stunning mountain scenery before retiring to your home from home, our luxuriously furnished rooms and suites with unrivalled panoramic views.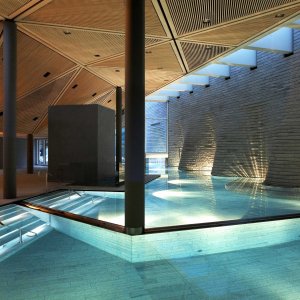 Services
On 5000sq.m, star architect Mario Botta has created a paradise for all senses, a place of wellbeing and inner peace. Naturally, the downhill skiing, snowboarding and cross-country skiing are fabulous in Arosa. A network of more than 225 km of pistes has the right downhill run for every proficiency level, there are 60 km of perfectly shaped hiking routes and more than 25 km of cross-country trails through the stunning unspoiled natural surroundings.Also, there are five restaurants and to treating you to some culinary highlights.
BEST TIME TO EXPERIENCE
From December to April, From July to September