Bad Ragaz, Grand Resort
Bad Ragaz, Switzerland
OVERVIEW
The Grand Resort Bad Ragaz is just four miles from the Tamina Gorge, where the physician and alchemist Paracelsus documented the healing powers of the Bad Ragaz spring water in the 16th century. The Grand Resort hotel continues this tradition of health and wellness with its 12,800-square-meter spa, one of the largest in Europe.
PRACTICAL INFO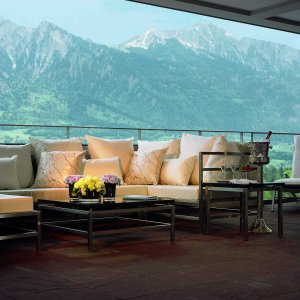 Location
The leading Wellbeing & Medical Health Resort is situated in the midst of the gently undulating landscape of the alpine foothills of the Rhine valley at the gateway to the Grisons. Approximately 68 miles from Zurich International Airport and half a mile from the Bad Ragaz train station. Limousine service from Zurich is available.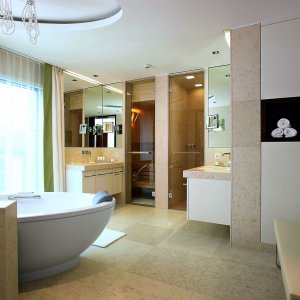 Accommodation
Discover fabulous rooms in contemporary design with precious natural materials and puristic interiors: 56 new Spa Lofts and Spa Suites are veritable oases of wellbeing for body and spirit. Each bathroom has its own thermal spa water supply, natural light, a free-standing whirlpool, steam bath and Swarovski crystal embellished lights. Some bathrooms have their own sauna and a magnificent view of the Alpine panorama. Spaciousness is the impression that greets you on entering the extravagant 440 square metre Penthouse Suite with its almost completely glazed living area and the breathtaking roof terrace with outdoor whirlpool. T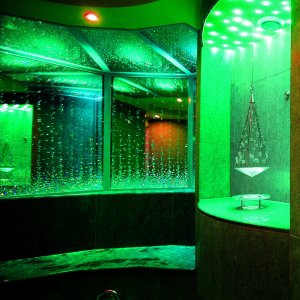 service
Close your eyes, listen to your inner self and let go. Let yourself fall, and just be – at the "36.5° Wellbeing & Thermal Spa" at Grand Resort Bad Ragaz. Recharge your batteries with our comprehensive wellbeing facilities. Give yourself up to the pursuit of health, vitality and relaxation in our unique world of healthy wellbeing. More than 12'800 sqm wellness area, including thermal bathes, different sauna and steam bathes, beauty treatment area, make-up and hair stylist as well as luxury massages. The Grand Resort Bad Ragaz is the only resort in Switzerland to have two golf courses of its own.
BEST TIME TO EXPERIENCE
From December to April