St. Moritz, Carlton Hotel
St. Moritz, Switzerland
OVERVIEW
The Carlton Hotel is a seasonal, all-suite St. Moritz property that opened in 1913, and has emerged from a multi-million dollar renovation that redefines the concept of luxury. Skiers are drawn to St. Moritz for its beauty, and its variety of social, sports and cultural events make it a true holiday choice. Accommodations were created by interior designer Carlo Rampazzi and face St. Mortiz Lake and the Swiss Alps.
PRACTICAL INFO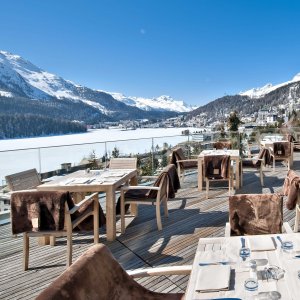 Location
St. Moritz, the famous exclusive holiday resort with it's "dry, sparkling champagne climate" and its cosmopolitan ambience, is nestled 6,000 ft up in the Swiss Alps in a valley blessed with pristine lakes, pine forests and a remarkably deep blue sky. In summertime, this world renowned resort is resplendent in its picturesque surroundings on the edge of a pristine mountain lake. It offers the appealing combination of an unspoiled natural environment, cultural activities, sports possibilities, attractive facilities, great shopping and a relaxing atmosphere. Situated on a plateau above Lake St. Moritz, the Carlton commands majestic alpine views in every direction.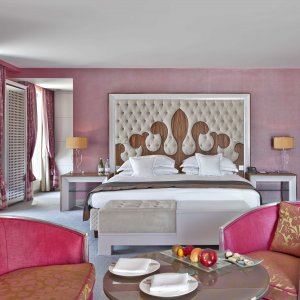 Accommodation
With its refurbishment as a boutique hotel with 60 junior suites and suites the Carlton Hotel redefined the notion of personalised luxury. The 60 suites of the hotel are extremely spacious and combine comfort with the latest in-room technology. The interior design, developed by the well-known Swiss designer Carlo Rampazzi, mixes antique furniture with the use of bold colours to provide the hotel with its own unique style. Much of the antique furniture collection has been restored and given a new look through paint and new colourful fabrics. The exclusive number of suites allows our team to provide the highest level of service. All 60 suites look out onto the frozen lake of St. Moritz and the alpine panorama beyond.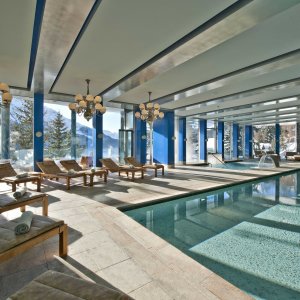 services
In order to achieve excellence in personalised service, the hotel offers a 24-hour butler service to fulfill even the most extravagant requests. Discover a sense of wellness for your body, mind and soul, combined with incomparable views of the St. Moritz mountain. Welcome to the world of the Carlton Spa – and its Leading Spa Award – set out on three floors and more than 1200 m2 of luxuriously appointed amenities, designed to transport you to new levels of well-being. The Restaurant ROMANOFF offers classic fine dining with seasonal specialities and French-Mediterranean à la carte delicacies. In contrast, the TSCHINE entices with casual dining in a relaxed atmosphere, offering local products harmoniously enriched with Asian touches.
BEST TIME TO EXPERIENCE
From December to March
CONNOISSEUR'S INSIDER TIP
Be sure to make reservations early for January to enjoy St. Moritz Polo World Cup on Snow which takes place on the frozen lake.