Aman Sveti Stefan
Sveti Stefan, Montenegro
OVERVIEW
In a country famed for its beauty, the most iconic images associated with Montenegro are of the tiny islet named Sveti Stefan. Attached to the coast by a narrow isthmus, the island lies across the bay from Villa Miločer, and together these two historic sites comprise Aman Sveti Stefan.
PRACTICAL INFO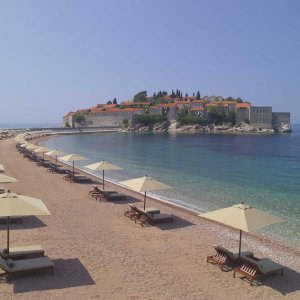 Location
Aman Sveti Stefan's Villa Milocer lies south of Budva, a metropolis of Montenegrin tourism, and between the coastal villages of Przno and Sveti Stefan. The resort is a 30-minute drive from Tivat Airport and just over an hour's drive away from Podgorica Airport. Dubrovnik Airport in Cilipi, Croatia, is a 2.5-hour drive away.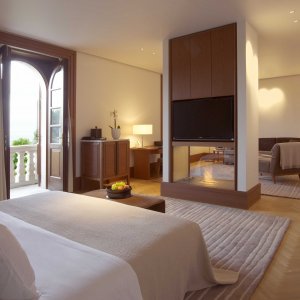 Accommodation
The island's accommodations are divided into Village Rooms, Cottages, Deluxe Cottages, Grand Suites and the Sveti Stefan Suite which has its own private swimming pool. Views from the different accommodations are of the sea, rooftops or quaint courtyards and piazzas, depending on their location. Every room, cottage and suite on the island is completely unique, just as one would expect from a place which evolved from a 15th-century fortress.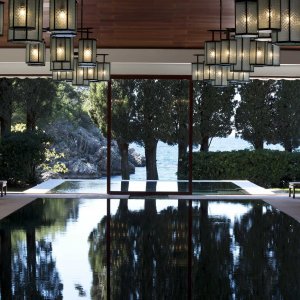 services
Aman Sveti Stefan incorporates two kilometres of coastline including the pink sandy beaches of Sveti Stefan, Milocer Beach and the famed Queen's Beach. Aman Sveti Stefan's Villa Milocer offers guests a host of opportunities to enjoy these gifts of nature, be it through boating on the Adriatic Sea, lounging on the beach or simply enjoying the spectacular view from the Living Room.

BEST TIME TO EXPERIENCE
From May to October
CONNOISSEUR'S INSIDER TIP
The hotel offers personalized guided tours to the old town of Budva, Skadar Lake and other major scenic and cultural attractions.