Santorini, Istoria Hotel
Santorini, Greece
OVERVIEW
The blue waters of the Aegean Sea meet the black volcanic sand of Perivolos Beach at the sophisticated Istorian Hotel, a Design Hotel on beautiful Santorini. The name of the hotel comes from the Ancient Greek word for a story and just as the word, this chic retreat wants you to create your own unforgettable summer story of Santorini.
PRACTICAL INFO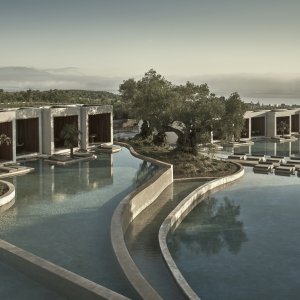 LOCATION
Nestled on the east part of the island, Istoria is not your usual Santorini retreat. Far from a bustle island life od the west side, this part is designed for more calming and beach-oriented summer vacation. Its location proves just that, it's situated right on the seafront of the renowned Perivolos Beach; a 3km stretch of volcanic black sand. The nearest airport is Santorini (Thira) Airport, 7.5 miles from the property, while the Athinios port is 6.8 miles from Istoria Hotel.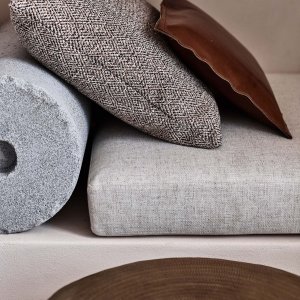 Accommodation
Created by the Athens-based Interior Design Laboratorium, the Istora is a sublime mix of traditional and contemporary architecture, well in tune with the renowned, unique look of the Cyclades islands. This 12-suite retreat is original in every sense, filled with handcrafted textiles and wooden furniture. The suites range from 40 to 50 square meters and all feature a king-size bed and a terrace. In addition to impressive sea views are either a Jacuzzi or a pool on the terrace.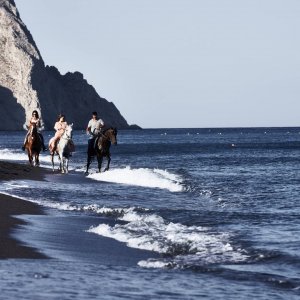 Services
Hotel's restaurant "Mister E" is quickly becoming a favorite place for the lovers of haute cuisine. That is no surprise as its executive chef, Alexandros Tsiotinis previously worked at Le Bristol in Paris, and Noma in Copenhagen. The bar next to the 30-meters long pool serves extraordinary cocktails such as Zeus v. Dionysus. At the two treatment rooms of the Asian spa you can try relaxing rituals using organic, local oils. The cherry on top would be a horse ride along the black sand beach which is a must-try.
BEST TIME TO EXPERIENCE
From May to October