Mnemba Island
Zanzibar, Tanzania
OVERVIEW
&Beyond Mnemba Island Lodge is a barefoot paradise on a private island, where just ten simple but luxurious palm-frond bandas lies hidden in a tropical beach forest, fringed by a white beach. Midway between the bandas and the Indian Ocean are shaded traditional Zanzibari 'beach' beds, perfect for reading, sleeping or doing nothing at all.
PRACTICAL INFO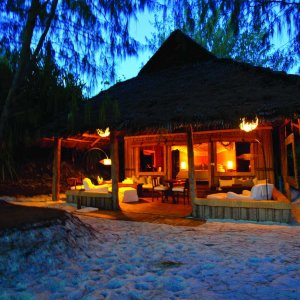 Location
&Beyond Mnemba Island Lodge is reached by a 90-minute drive from Stone Town through the lush spice plantations that cover main Zanzibar Island. Guests wade knee-deep in the balmy ocean waters to board a waiting boat for a 20-minute crossing to a warm island reception. As there are no jetties, departures and landings are directly to and from the beach and involve a little wading.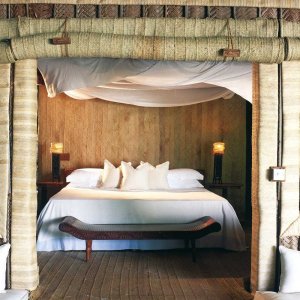 Accommodation
Sea breezes waft through high palm-frond roofs and large windows in your beachside banda. Overhead fans in a spacious bedroom filled with soft, natural fabrics and traditional woodcarvings cool down the warm tropical nights. Enjoy ocean views stretched out on the built-in barazas (Swahili word for 'meeting place') on your veranda. A shady corridor of woven palm leaves leads to a large shuttered bathroom where a massive stone shower awaits behind a glass beaded curtain.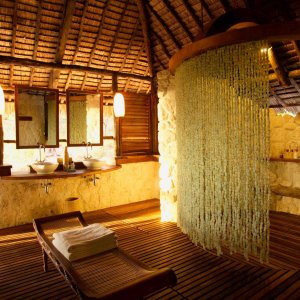 Services
Mnemba is surrounded by an atoll of breath-taking coral reefs and boasts some of Africa's most magnificent dive sites. The calm azure seas surrounding the island offer irresistible snorkelling, scuba diving, kayaking, fly fishing, windsurfing and permanent swimming directly from the beach.
BEST TIME TO EXPERIENCE
July to October and December to March