Barcelona, Hotel Arts
Barcelona, Spain
OVERVIEW
A blissful retreat, cultural hub, meeting space and fine dining destination rolled into one. Built to coincide with the Olympic Games in 1992, this luxury hotel is a landmark on the Barceloneta boardwalk: 44 stories of blue glass and exposed steel soaring high above the seafront. Inside, hard edges and materials give way to an environment of elegance and refinement.
PRACTICAL INFO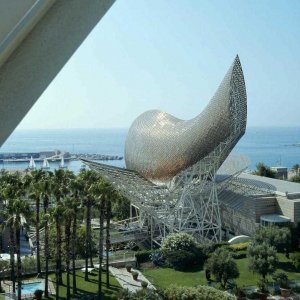 Location
Designed by the distinguished architect Bruce Graham of Skidmore, Owings and Merrill, the Hotel Arts is part of Barcelona's recent cultural renaissance, and as modern as the city itself. The seafront hotel overlooks the Mediterranean on the Port Olimpic, next to the marina and Barcelona's famous beaches, and surrounded by lush terraces and lively promenades. Close by, the district of Barceloneta is a hive of characterful bars, cafes and local seafood restaurants. The hotel is a short stroll away from the city's historical centre, and just 20 minutes by car from Barcelona airport.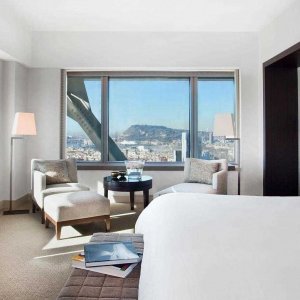 Accommodation
Discover modern luxury in each of our spacious hotel suites and guest rooms at the Hotel Arts Barcelona where 24 hour personalized service and exclusive amenities are the standard. Choose from 483 spacious guestrooms, including 28 Barcelona luxury apartments and 59 stylish hotel suites for a truly indulgent reprieve. For guests seeking a more unique experience, The Club Level provides guests with panoramic city or Mediterranean views complimented by your dedicated concierge to assist in private check-in and check-out services. The Club Lounge, located on the 33rd floor, indulges guests even further with exquisite food and beverage presentations that are sure to entice.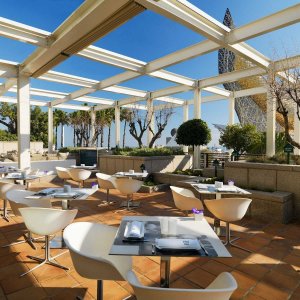 Services
An oasis of calm and spiritual wellbeing in the city but just a few metres from heaven, the spa operated by the world-renowned spa company Six Senses occupies the 42nd and 43rd floors of the hotel. Enjoy a beauty treatment or relaxing massage while drinking in the views of the sea and cityscape far below you. Dining in Barcelona is always a special event – and you can experience the best of the city's culinary culture here, in the restaurants of the Hotel Arts. There are six restaurants and bars to choose from, serving everything from light, informal breakfasts and lunches to exceptional Catalan cuisine.

BEST TIME TO EXPERIENCE
All year round