Mallorca, Pleta de Mar Luxury Hotel by Nature
Mallorca, Spain
OVERVIEW
Imagine yourself in an otherworldly perfect integration of the lavish nature and calming blueness of the sea. Hotel Pleta de Mar is a sleek luxury, just 200 meters from Can Simoneta, proving that such serenity does exist.
PRACTICAL INFO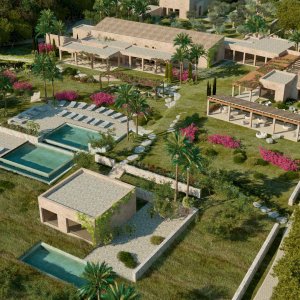 Location
Nestled only 4 minutes walk from the Canyamel beach, Hotel Pleta de Mar is located on Mallorca's north coast, practically interwoven with soothing sounds of waves and the smell of the sea. Surrounded by mountains and pine trees creating a natural shelter from buzzing city life, it's about 61 km away from the nearest airport, Palma de Mallorca Airport. Discover coastline of Mallorca, largest of the Balearic Islands known for its warm weather and wonderful beaches, in the most exclusive way: with the hotel's Chris Craft 25 boat. Visit by car, Cala Millor, one of the largest resorts that still retains its original character and atmosphere with many Spanish tapas bars and Spanish resident community, just 7 km away.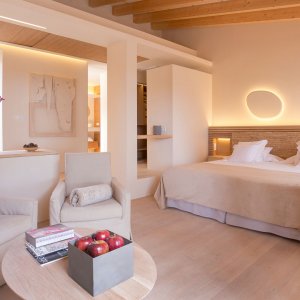 Accommodation
The elegant style of this 5-star boutique hotel blends into the landscape perfectly, offering a wonderful view of the Canyamel bay and breathtaking scenery of the deep blue Mediterranean sea. The Pleta de Mar's 30 suites are pure satisfaction with their stylish interior and décor. Experience a different dimension, where each of those 26 suites, 3 luxury suites and 1 grand suite has a private pool, guaranteeing absolute privacy and exclusiveness. The pleasure of releasing to unique moments of relaxation and disconnection, besides the spectacular views of the sea, are also improved by the fact that in some of them there is a private Jacuzzi.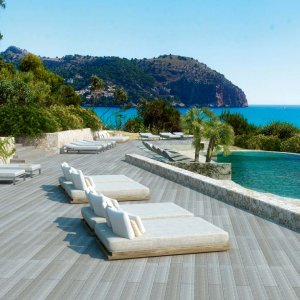 Services
Open-fire cuisine, Asador de Mar serves heavenly and authentic meat and fish dishes from the region with the freshest seasonal ingredients, all in an exceptional setting surrounded by nature. The up-to-date spa area with sauna and outside jacuzzi offers splendid relaxation or afterward, you can simply choose to spend time in the amazing, well-kept garden, where two infinity pools are waiting for you. The east coast is perfect for the active side of the holiday as well, especially for golfers, because only about 8 kilometers away you will find 4 attractive golf courses. Or a tennis court can be reached within 700 meters so if you do feel like spending all that extra energy from the delicious meal you will have plenty of choices.
BEST TIME TO EXPERIENCE
From May to October
CONNOISSEUR'S INSIDER TIP
The hotel is an adults-only hotel, guests from 18 years on are welcome