Mallorca, Cap Rocat
Mallorca, Spain
OVERVIEW
Step into the reimagined 19th-century military fortress that offers stylish island escape with stunning views over the azure sea.
PRACTICAL INFO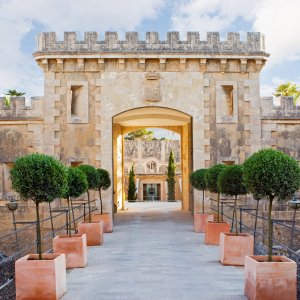 Location
Cap Rocat is perched on a cliff in a secluded area of Palma Bay, set in 88 acres of land with 2kms of coastline. The dramatic surrounds of drawbridge, bunkers and trenches are softened by the hotels stylish and sophisticated interiors and bedrooms. Palma de Mallorca's city centre is a half-hour drive from the hotel.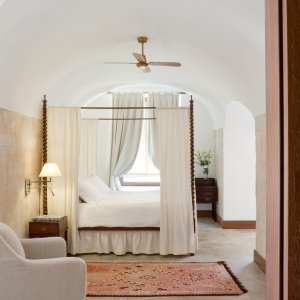 Accommodation
The unique character of the hotel can be seen in carefully decorated rooms and suites. Contemporary and classic furnishings, elegant en-suite bathrooms and private patio or terrace with beautiful sea views make of Cap Rocat not a hotel, but an experience. The most exclusive is the El Cabo Suite, a true sanctuary of relaxation, which invites you to enjoy the private pool and three different terraces. If you prefer privacy above all, the magical Del Mar house surrounded by a Mediterranean garden and with a plunge pool overlooking Palma bay is an ideal spot for your vacation.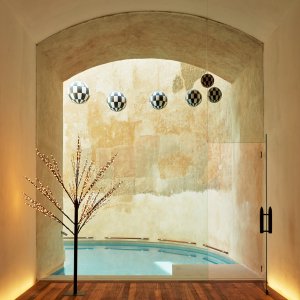 Services
At the Fortress Restaurant relish in spectacular Mediterranean dishes made from products sourced from ecological farms. The Sea Club, an open-air restaurant offers dishes cooked in a traditional Mallorcan oven. At the Former Fortress Kitchen, you can enjoy private dining and cooking classes. A day at the Spa can be an extraordinary experience as the spa is located 12m below ground level, but its conservatory-style glass ceiling provides brightness and in the same time unique allure. If you love active vacation, the hotel offers various sports activities: tennis, yoga, walking trails, cycling, sailing, diving, and waterskiing.
BEST TIME TO EXPERIENCE
From March to November