Amanjena
Marrakech, Morocco
OVERVIEW
Amanjena (peaceful paradise) is the first Aman resort on the African continent and is located just outside the ancient city of Marrakech. Set within an oasis of palms and olive trees, Moorish heritage is reflected throughout the pisé-walled resort, including the Morocco luxury pavilions that radiate out from an ancient bassin, echoing the style of a sultan's palace. Amanjena offers a variety of guided excursions on foot, bicycle or private car into the medina, the souk and squares, palaces, gardens and craft shops of ancient Marrakech.
PRACTICAL INFO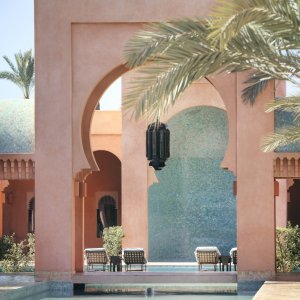 Location
Amanjena provides complimentary transfers from Marrakech airport (a 20-minute journey) and Casablanca airport, which is approximately 2½ hours away.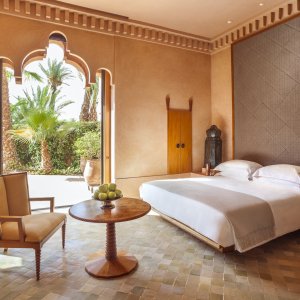 Accommodation
All of the resort's 32 air-conditioned pavilions include a bedroom-living room and spacious bathroom and dressing area. The living area consists of a high, domed ceiling, a king-size platform bed and an open fireplace. Furnishings include a daybed with an accompanying table and chair. The suites have a mini-bar, a CD player and a TV/DVD, while green Moroccan marble and a soaking tub in a garden setting highlight the bathroom. Each pavilion has its own private courtyard along with a pillared minzah (gazebo) and a fountain.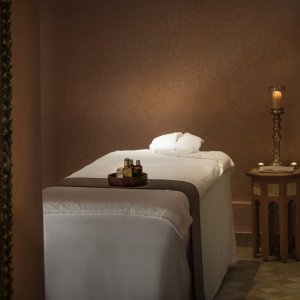 services
Amanjena's heated outdoor 33m swimming pool is finished in green tiles and bordered by hibiscus flowers. There is a separate shallow pool. The hammam or steam bath is central to Moroccan life. Unsurprisingly, it has pride of place at the heart of the Amanjena Health and Beauty Centre. Each hammam (one each for men and women) is complemented by showers, washrooms, a change area and glassed-in whirlpool.
BEST TIME TO EXPERIENCE
May and September
CONNOISSEUR'S INSIDER TIP
The resort offers "souk trawling" tours — your guide knows the best shops, and can help you with the art of bartering.