La Mamounia
Marrakech, Morocco
OVERVIEW
Inspired by the Arab-Moorish tradition that infuses so much of Morocco's heritage, the architecture and décor of the deluxe hotel La Mamounia is that of the opulence of times gone by blended seamlessly with the comfort and style of modern luxury. Such a unique combination of style and tradition has attracted some of the world's best-known historical figures and celebrities – from Winston Churchill to Princess Caroline of Monaco – all of whom have enjoyed many wonderful times here. And today, more than ever, the La Mamounia name holds a special place in the hearts of all who have visited her…young and old alike.
PRACTICAL INFO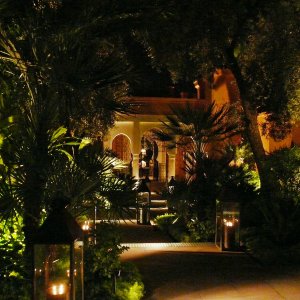 Location
Just a stone's throw away from the famous Jamaa El Fna Square. Close enough to the mesmerising chaos of the medina, an intimate oasis of tranquillity and peace. Marrakech-Ménara airport is 6 km from the city and 15 minutes by car. If you are flying to Casablanca or Agadir, they are 200 kms from Marrakech, a two-hour drive to the hotel.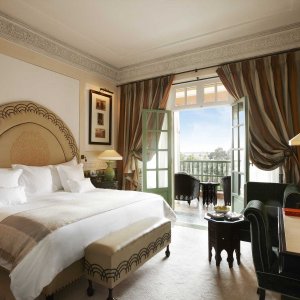 Accommodation
Classic Traditional rooms are decorated with warm tones and have views over the city and internal gardens. The Superior ones being on higher floors afford views over the Hivernage whist the Deluxe overlook the Koutoubia, the park or the Atlas Mountains and Agdal garden. The Suites are a wonder to behold with spectacular views over the gardens and Atlas Mountains, opt for an Executive Suite with a spacious terrace. The Signature Suites all feature their own style and are fit for a king. Alternatively stay in your own three bedroom riad replete with large dining room, private terrace with your own swimming pool.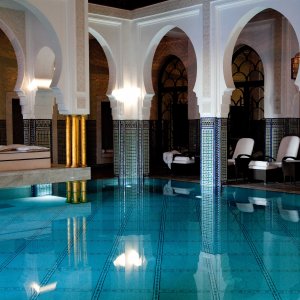 Services
Inspired by an intoxicating blend of Moroccan and Eastern culture, the 27,000-sq-ft Spa La Mamounia beautifully fuses the traditional with the modern. The Spa features a large indoor heated pool, Jacuzzi, 9 treatment rooms, 6 outdoor massage cabins, a gym, 2 Hammams and a spa suite.
The hotel's three signature restaurants boast authentic Moroccan, French and Italian cuisine in intimate settings that stay true to the menus' origins.
BEST TIME TO EXPERIENCE
From mid-February to June and September to December
CONNOISSEUR'S INSIDER TIP
Eat out on L'Italien's terrace by candlelight. On chiller nights at Le Français, tables close to the window are ideal. Grab a table with a full Atlas Mountain vista at Le Marocain; as close to the pool as possible at Le Pav.