Marrakech, Mandarin Oriental
Marrakech, Morocco
OVERVIEW
Lying in 20 hectares of fragrant gardens and gnarly olive groves, Mandarin Oriental, Marrakech is a five-star luxury resort only minutes from the city centre. With excellent facilities and world-class dining, it brings its guests the ultimate Moroccan escape.
PRACTICAL INFO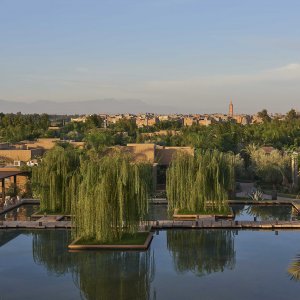 Location
With the Atlas Mountains as a backdrop and a series of serene ponds as a centrepiece, Mandarin Oriental, Marrakech lies nestled in 20 hectares of olive groves and landscaped gardens, beautifully scented with jasmine, night-blooming cestrum and over 100,000 fragrant roses. Only 10 minutes from the city's famous Medina, this elegant, contemporary resort feels a world away in terms of serenity.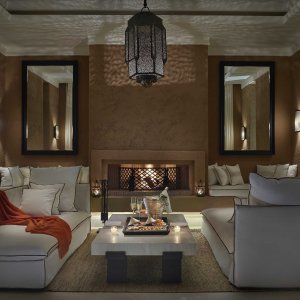 Accomodation
With accommodation consisting exclusively of villas and suites, Mandarin Oriental promises a truly luxurious experience, combing space, privacy and exquisite design. 54 one- and two-bed villas, each featuring a heated pool, jacuzzi and open-air shower set within a private walled garden; 7 expansive suites, each with a rooftop plunge pool and stunning views; 2 Infinity Pool Suites, each offering direct access to the spa, with private infinity lap pools.
Beautiful design incorporating traditional Moroccan decor and contemporary touches.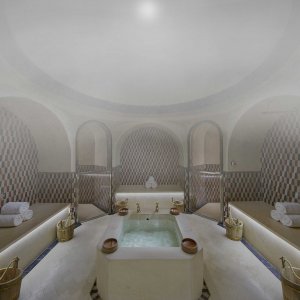 Services
Traditional Moroccan cuisine with a contemporary twist from celebrated chef Meryem Cherkaoui at Mes'Lalla; Al fresco, all-day dining at Pool Garden
Breakfas; Light bites, pastries and champagne in the chic, contemporary surroundings of Le Salon Berbère; International and Moroccan dishes served in the private surroundings of your villa or suite with MO In-Villa 24-hour dining service.
Drawing inspiration from Oriental heritage and Moroccan location, the serene spa is the ultimate holistic oasis. All of the treatment suites include a private, walled garden where guests can relax after their treatments.
BEST TIME TO EXPERIENCE
From February to June and September to December