Miami, 1 South Beach Hotel&Homes
Miami, USA
OVERVIEW
1 South Beach's hotel and homes were designed with the same inspiration but separate objectives. The residences bring in the calm and timelessness of the beach, while the rooms and lobby of the hotel focus more on its energy. These directions were designed to come together in concert.
PRACTICAL INFO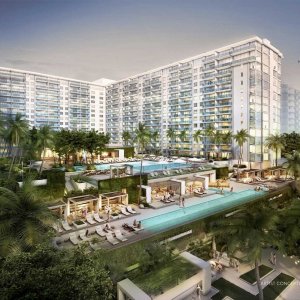 Location
The eighteen story 1 Hotel&Homes in Miami Beach occupies the former home of the Gansevoort and the Perry. It is the biggest piece of waterside real estate in South Beach and also occupies one of the limited empty spots available for oceanfront construction projects. It is also among the few buildings looking to achieve LEED (Leadership in Energy and Environmental Design) certification.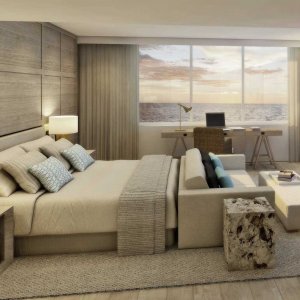 Accomodation
From woods to washed fibers, Debora Aguiar created textured environments with natural materials. Careful decisions were made about light and the way it interacts with space. It invites you to walk home from the beach without ever stepping into a space that feels unnatural. Expansive floor plan layouts provide opportunities for gracious living. These luxury condos in Miami have spacious private balconies with spectacular views of the Atlantic Ocean or the Miami city skyline. White quartz kitchen counters and Yakarta blanco porcelain backsplashes sit atop white, deep grained wood veneer lower cabinets with frameless, white glass upper cabinets.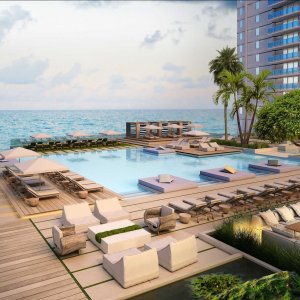 Services
There are four swimming pools, including the hotel's stunning rooftop pool and restaurant-bar with panoramic views of the ocean and Miami city Skyline. You can enjoy the signature farm-to-table restaurant created in partnership with award-winning, world-renowned chef Tom Colicchio. Amenities include 24-hour concierge, valet parking, access control and bellman services, access to full-service fitness center and spa, in-residence massage, spa and fitness services, including personal training and many more.
BEST TIME TO EXPERIENCE
From December to May