Miami Beach Edition
Miami, USA
OVERVIEW
The Miami Beach EDITION is not merely a boutique hotel. Here you'll find an elegantly designed, intricately interlinked complex of structures, spaces and settings that together offer a new kind of luxury resort environment. Every aspect of the traditional beach hotel has been re-imagined for the needs and desires of a new generation, and every thought given to enhancing a guest's stay, whether for vacation, relaxation or work.
PRACTICAL INFO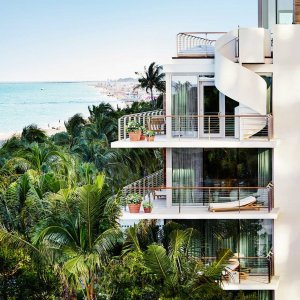 Location
Located in Mid-Beach—the historic "heart of Miami Beach" between South Beach and North Beach—on a 3.5-acre private enclave stretching from Collins Avenue to the ocean shoreline. The Miami Beach Edition present exclusive access to the largest private beachfront in the city. Vibrant nightlife, shopping and dining of Ocean Drive and Lincoln Road lie just south of the hotel. Minutes from the Miami Beach Convention Center, home to Art Basel and Miami Beach Fashion Week.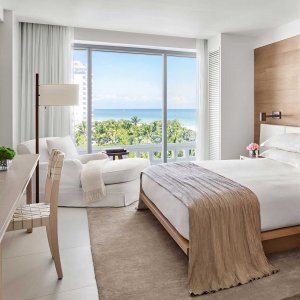 Accommodation
The Miami Beach EDITION emphasizes a simple yet sophisticated design sensibility, evident in the 294 luxurious guest rooms including suites, bungalows and a soaring Penthouse. Spacious and elegantly designed, guest rooms feature light oak-paneled walls and a bathroom with a sliding glass door and ivory porcelain-slab floor tiles. Sophisticated suites at the Miami Beach hotel feature a separate seating area, many also have a private balcony and option for connecting rooms. Each of the beachfront hotel's bungalows give privacy, space and style with a bedroom, dining area, living room and balcony.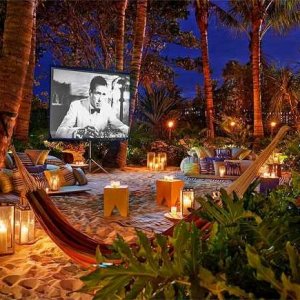 Services
The urban resort featuring a formidable range of dining and entertainment options, including a restaurant by Michelin-starred chef Jean-Georges Vongerichten and full floor entertainment area complete with a bowling alley, ice-skating rink and nightclub. Facing the Atlantic Ocean are two outdoor pools with outdoor bars, personal cabanas; an outdoor movie theatre and 70,000 square feet of beach front- the largest in the city. A 24-hour state-of-the-art high performance fitness center and spa offer cutting edge health and wellness treatments.
BEST TIME TO EXPERIENCE
From December to May