Amankora Spa
Paro, Bhutan
Part of
Spa

Collection
OVERVIEW
Amankora has five nature-linked lodges nestled along a path of edifying momentum uncovering the richness of a pristine cultural and biogenetic evolution, deeply entrenched in the spectacular Himalayan Kingdom of Bhutan. Spa facilities are available at all Amankora lodges. The Amankora Spa incorporates Bhutan's physical healing traditions and its extensive pharmacology, all based on the use of plants and herbs.
PRACTICAL INFO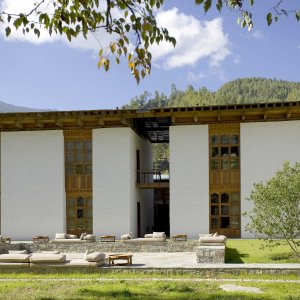 Location
Amankora recommends that guests fly from Bangkok, Delhi or Singapore into Paro. Arrival and departure transfers are offered between Paro International Airport and Amankora Paro/Amankora Thimphu, as well as between Bumthang Domestic Airport and Amankora Bumthang.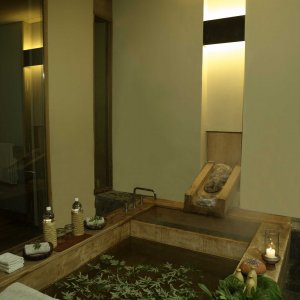 PHILOSOPHY & PRODUCT
Incorporating Bhutan's traditional plant- and herb-based therapies into each of the spa menus, the Amankora Spa deepens guests' direct experience and appreciation of Bhutan's unique natural and cultural resources. Through smell, touch, hearing, sight and taste, the Amankora Spa strives to capture a sensation which is wholly Bhutanese. The scent of the Spa is cedarwood, which is used as temple incense by the Tibetans and is employed in Bhutan's traditional medical remedies for respiratory, skin and arthritic conditions, and as a circulatory stimulant and relaxant.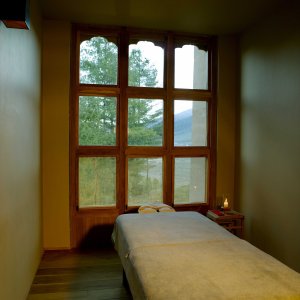 TREATMENTS
At Amankora Paro, the Spa's relaxation and sauna rooms feature local timbers and glass walls which filter the light of the surrounding blue pine forest. Given the close proximity of the Royal Palace, the Spa at Amankora Thimphu offers treatments using local herbs. The signature treatment is a hot oil head massage, based on the ancient healing system of Ayurveda. The Spa at Amankora Punakha offers therapeutic massages and facials. The Spa's signature treatment is a holistic facial, suitable for men or women. The Spa at Amankora Bumthang offers steam facilities and specialises in customised oil massages, including the signature foot reflexology treatment.
CONNOISSEUR'S INSIDER TIP
Be sure to pre-book an early evening session in the hot stone bath at Gangtey before arrival - there is only one. And the experience of watching the night draw in whilst relaxing in a naturally heated bath in a stone cabin in the middle of a potato field with wooden doors opening onto view of the Phobjikha Valley is un-missable.