When you want to add a touch of glamor to an event - serve champagne or sparkling wine. The perfect time is saying goodbye to the old and welcoming the New Year. But first of all, let's demystify the term Champagne.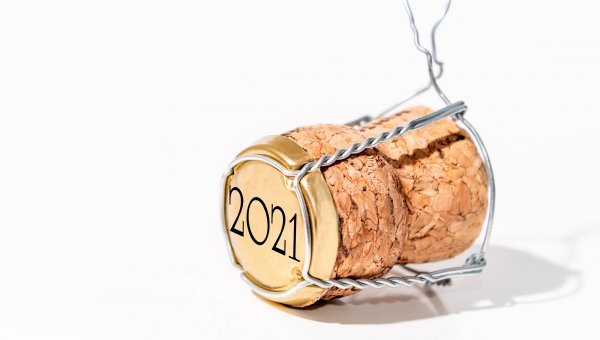 It can be used as a generic term for sparkling wine, but in the EU and some countries, it is illegal to label any product Champagne unless it came from the Champagne wine region of France and is produced under the rules of the appellation. The grapes Pinot noir, Pinot Meunier, and Chardonnay are primarily used to produce almost all Champagne.
Knowing labels can help you choose the exact flavor you want to taste or to know what to drink with certain types of food. Let's start:
Blanc de noir
It is a label for sparkling wine produced from red varieties called Pinot Noir or Pinot Meunier. It's the name for a white wine produced entirely from black grapes. These two types of grapes are the only ones that can be used in the production of Champagne. These wines have a slightly yellower color than wine from white grapes.
Blanc de Noirs champagnes go particularly well with caviar and cured meats.
Blanc de Blancs
This "white of white" label means that the wine is produced exclusively from Chardonnay grapes. This label can be found on many sparkling wines to note that they are produced from Chardonnay.
A "Blanc de Blancs" wine is a perfect complement to oysters, for example, or to the delicate flavors of fish.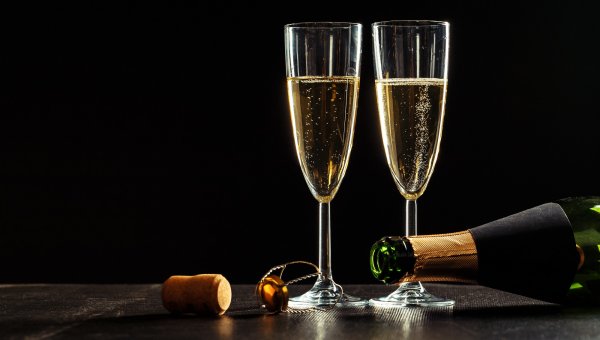 Millésimé or Vintage
Most of the Champagne produced today is "Non-vintage", meaning that it is a blended product of grapes from multiple vintages. Vintage Champagnes are made with grapes from a single year's harvest and will have that year displayed on the bottle. Vintage Champagne must be aged for a minimum of three years in the bottle, as opposed to 15 months for non-vintage versions.
As these are rare wines with unique aromas we suggest you serve them with refined delicacies or to celebrate a momentous occasion.
Prestige cuvée
A cuvée de prestige is a proprietary blended wine (usually a Champagne) that is considered to be the top of a producer's range. Some of these labels, even though they were born as a manufacturer's cuvée de prestige, have then become a real separate brand: the most emblematic case is that of Moët & Chandon's " Dom Pérignon ". Perhaps the first publicly available prestige cuvée was Moët & Chandon's Dom Pérignon, launched in 1936 with the 1921 vintage. Until then, Champagne houses produced different cuvées of varying quality, but a top-of-the-range wine produced to the highest standards was a new idea. Louis Roederer had been producing Cristal since 1876, but this was strictly for the private consumption of the Russian tsar. Cristal was made publicly available with the 1945 vintage.
Brut nature - Sweetness
Depending on the dosage, champagne may be brut (dry), demi-sec (semi-sweet), or doux (sweet). When less than 3 grams of sugar are added per liter, the champagne is labeled as "Brut nature."
The following terms are used to describe the sweetness of the bottled wine:
Extra Brut (less than 6 grams of sugar per liter)
Brut (less than 12 grams)
Extra Dry (between 12 and 17 grams)
Sec (between 17 and 32 grams)
Demi-sec (between 32 and 50 grams)
Doux (50 grams)
The most common style today is Brut. However, throughout the 19th century and into the early 20th century Champagne was generally much sweeter than it is today. Moreover, except in Britain, Champagne was drunk as dessert wines (after the meal), rather than as table wines (with the meal).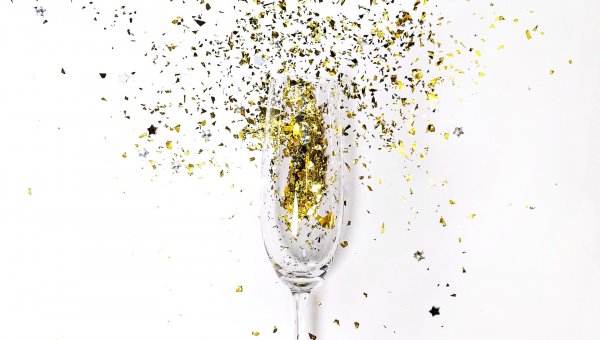 Rosé Champagne
Rosé Champagnes are characterized by their distinctive blush color, fruity aroma, and earthy flavor. Rose champagne can be made by blending 5% to 20% red still wine - Pinot Noir or Pinot Meunier red wine - into the white wine. The pink shade of a Champagne is also achieved by bleeding it with the grape skins of Pinot Noir and Meunier red grape – this is called the Saignee method.
No matter which Champagne you choose, it is important how you serve it. Niamey, when sparkling wines are served, they must be well chilled, which means that their temperature should be 8 to 10 degrees Celsius.
And one more thing: it is also important how the bottle of sparkling wine opens. Namely, the French say that "shooting champagne is a great pleasure for the sense of hearing, but it is an even greater loss for the sense of taste" - because in this way precious carbon dioxide is lost. If you want to feel the real aroma of sparkling wine, you need to hold the bottle at an angle of 45 degrees and slowly open the stopper until you hear a sound like a sigh. After that sigh, it's time for a toast.