Regent Porto Montenegro is a spectacular place. Its unique setting on Adriatic coast and magnificent Venetian style has granted the Regent Porto Montenegro as the new lifestyle destination in the Mediterranean. With its unique facilities one especially stood out – its unique, elegant, yet simple gastronomic offer.
Enriching the Montenegrin scene in style, accommodation and cuisine, Regent Porto Montenegro brought a unique flavour to the Coast. With its two restaurants and a bar – the Dining Room, Library Bar and the bakery Gourmet Corner, Regent Porto Montenegro has been recognized as the true gourmet paradise of Adriatic Coast.
The Dining Room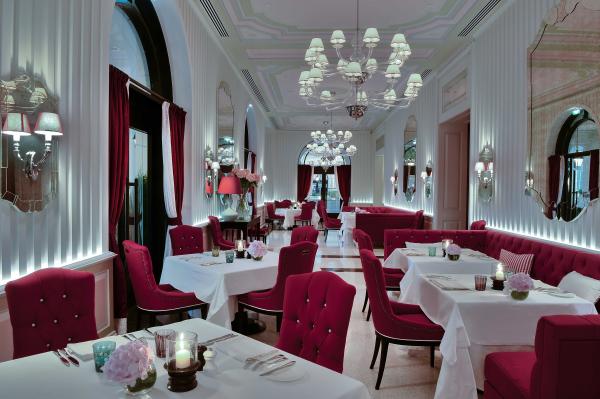 The definition of the fine dining has been provided by the Regent's Dining Room, an elegant all day restaurant. From lobster with wild asparagus, Wagyu beef, Amberjack Kingfish to unique daily changing menu, they succeeded in making the dining an exclusive experience. Creative culinary team is responsible for creating the culinary alchemy of traditional Mediterranean cuisine with Asian influences. Also featured is a selection of prime cuts of meats and seafood cooked over an open flame on the charcoal grill. They find inspiration in the use of a combination of classical and modern cooking techniques to bring out the best possible flavors and textures in ingredients using an elegant yet simple presentation style. The team is concentrated on the use of local, seasonal, organic products that are essential for creating the unforgettable gastronomic experience. We warmly recommend you to try delectable 6-course degustation menu in the evening.
The Library Bar
Refined and intimate setting facing outdoor terrace with stunning sunset views is the Library Bar of the hotel. A perfect place for a night out to enjoy the smooth summer melodies. Friday nights are reserved for jazz classics with complimentary Mediterranean and Asian inspired tapas. The chic interior and impeccable selection of the finest champagnes, cognacs, and Scotch whiskies create sophisticated ambiance. Every Sunday you can enjoy the best regional wines with Miroslav Kalinić, Regent's Head Sommelier. The Library Bar quickly became known for its signature cocktail "Boka Sunset" which is a must for all cocktail lovers.
The Gourmet Corner
A piece of heaven for all the gourmands. From delicate French macaroons, divine cakes, bakery, chocolate muffins to creative artisanal cakes, breads and beverages you will be astonished by the diverse flavours. With 20 indoor and 45 outdoor seats it is the perfect place to try out the finest patisserie in Montenegro.
Regent Porto Montenegro is a sublime combination of style, taste and design resulting in a spectacular destination for lovers of the finest things in life, so there is absolutely no wonder that it has been nominated for World Luxury Hotel Awards 2015.
For more information you can visit Regent Porto Montenegro website here, or if you are interested in tailor made itinerary and insider knowledge please connect with Connoisseur's travel advisor here.