Whether it is an endless cobalt horizon or a dip in the turquoise waters of the Aegean, guests can rest assured that Ikos Resorts will allow them to experience a premium beach getaway. Located on idyllic beachfront locations, Ikos Resorts offers two new exciting properties: Ikos Oceania and Ikos Olivia. Balancing the convenience with total indulgence, you can relax with the new 'Beach Life' concept, including all-day waiter and childcare services in addition to bespoke beachfront dining– all while enjoying the sun's rays on their very own tranquil, private beach.
Waiter Service
Whether on the beach or by the pool, everything is at your fingertips to ensure your experience is truly unforgettable; from the most comfortable sun beds and umbrellas to all-day waiter service bringing you refreshing drinks, fruit and snacks to order. You can rehydrate and refuel with an array of refreshing Greek salads, fresh fruits, chilled soups and burgers delivered directly to their sun loungers. Extending the pampering and personalisation at Ikos Resorts you can also try an array of cocktail classics, fine wines, spirits, juices, tea and coffee.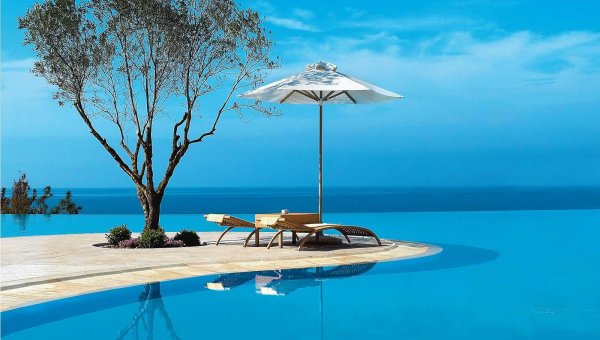 Redefining hospitality in the Mediterranean, the beachside waiter service at Ikos Resorts pertains to each guest's every need without interrupting relaxation time. The all-inclusive offering also provides complete freedom and flexibility whilst avoiding time signing for drinks or waiting for the bill. The peace of mind that comes with not having to keep a check on what is ordered and the ease of having an all-day waiter service at your fingertips paves the way for utter indulgence.
Deluxe Collection guests also enjoy privileged access to their own private pool and VIP beach area with guaranteed sunbed availability, a beautiful dinner set on the beach and upgraded menus and beachside services, including sparkling wine and Signature Deluxe cocktails.
Childcare Service
When it comes to taking a break from the little ones, the Ikos beachside childcare service is available free of charge for the first 30 minutes to look after them with the greatest care. The idyllic private beaches are a safe and natural haven for children to play or be joined by friends for milkshakes or ice-creams without requiring parents to accompany them.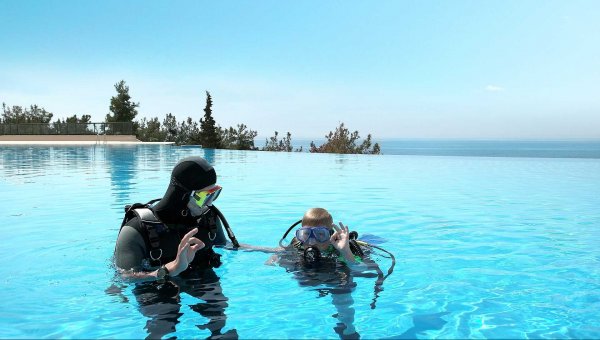 Ikos Resorts are located in spectacular settings with beautiful beaches and azure waters. Guests of all ages can enjoy both indoor and outdoor swimming pools, in addition to secluded beaches which offer the opportunity to relax and enjoy the crystal clear waters and valuable time with loved ones. For added indulgence, deluxe guests can choose a spot along the reserved area on the beach or relax besides a private pool for their exclusive use.
After a glorious day beside the beach or pool, you can experience the revolutionary balance between the security and the freedom of a bespoke holiday at Ikos Resorts. This freedom extends to the 'dine out experiences', providing you with the chance to dine out of the resort, and presenting a flexible all-inclusive holiday. Alternatively, you can visit the in-house restaurants which offer a selection of the finest food prepared by internationally recognised Michelin starred chefs and enjoy internationally branded wines and spirits. The contemporary and innovative accommodation as well as 24 hour in-room dining will enhance a luxurious, unforgettable beach holiday.
Source: Ikos Resorts
For more information you can visit Ikos Resorts website here, or if you are interested in tailor made itinerary and insider knowledge please connect with Connoisseur's travel advisor here.