To explore hidden beauties of Peru and Amazon once was reserved only for locals. Now the remote coasts of hidden treasures of Amazon are accessible from the beautiful surrounding of floating hotel. To enjoy the magnificent views of the nature from Aria Amazon is truly a unique experience.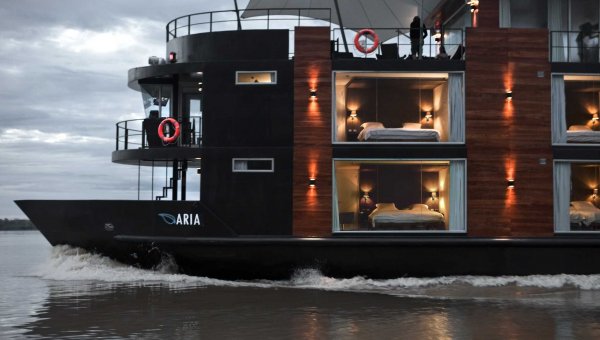 The unique ship was built in collaboration between Aqua Expeditions and famous Peruvian architect Jordi Puig. It is an intimate yet spacious 16-suite ship designed to be in tune with nature and to provide the ultimate luxury experience. Relax in an outdoor Jacuzzi overlooking the Amazon's riverviews or enjoy the view while lounging on the cozy window-side day bed with binoculars in hand. You can decide to have a little adventure and take a day off the ship. Head to excursion off the vessel to explore the unique Amazon wildlife, birds and plantlife of this rich habitat. Part of the crew are the four biologist trained to show you the magical word of Peruvian wildlife.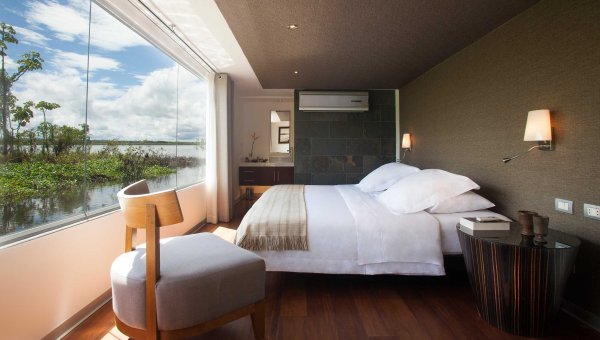 Depending on your time you can spend 3, 4 or 7-nights discovering the depths of the Amazon's rainforests and enjoying an intimate glimpse of her wildlife, ecosystems, local customs and marine and jungle landscapes. Do all this form exceptional comfort of your 23 square meters suite. Floor to ceiling glass facing the Amazon River are the exceptional part of this luxurious river retreat. En suite bathrooms with rain shower and organic bath amenities incorporate the latest eco-sensitive technology.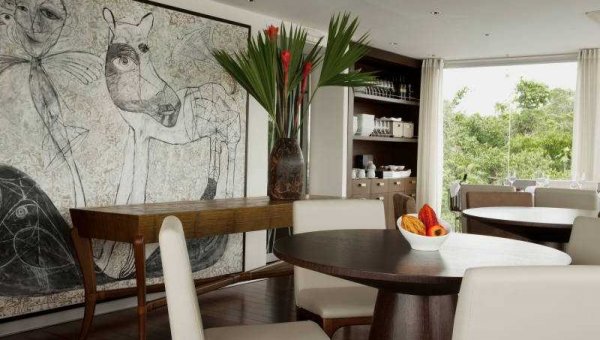 If you are a lover of food get ready to taste the delightful meals from the hands of Executive Chef Pedro Miguel Schiaffino. The refined interior of the Aria Amazon dining room has been stylishly finished with contemporary Peruvian art. It is the perfect ambiance for tasting exquisite dishes, such as the hearts of palm soufflé followed by an Amazon bass tiradito. You can enjoy your dinner at outdoor lounge area while enjoying the rainforest night scenery.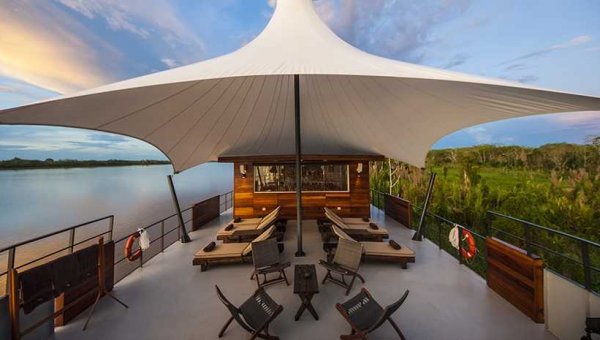 This unique luxury expedition to the depths of Amazon is the lifetime experience. There are few journeys in the world that can help you discover the most remote landscapes in such luxurious environment. There is no wonder that Aria Amazon is not just another river cruiser, it is the floating hotel in all its exclusivity.
If you need more information you can visit the official website of the Aria Amazon here. If you are interested in tailor made itinerary and insider knowledge please connect with a Connoisseur's travel advisor here.