Sugar Beach, a Viceroy resort is nestled within more than 100-acres of picturesque, landscaped rainforest leading down to a white sand beach between the world's most famous twin peaks. The Pitons are a UNESCO designated World Heritage Site and the hotel is surrounded by natural habitats. Sugar Beach occupies one of the most memorable spots anywhere in the Caribbean it is truly exclusive.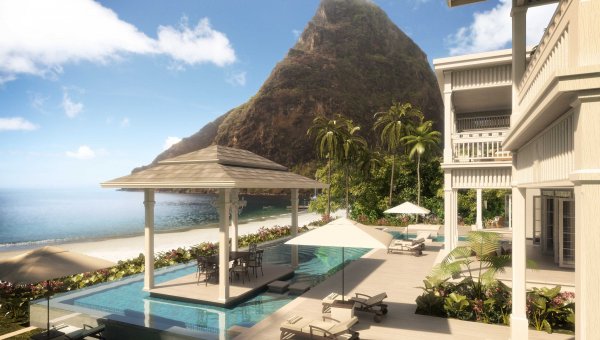 Sugar Beach is the ultimate combination of 18th Century colonial charm and superb modern amenities. Set amid lush vegetation and soaring trees, with breathtaking views of the Caribbean Sea and the Val des Pitons, Beachfront Bungalows, elegant Luxury Villas and Luxury Sugar Mill Rooms instil a sense of harmony with magnificent natural surroundings. Inside, they're peaceful seas of white, from the Egyptian cotton linens on the four-poster beds to the tubs that have pride of place in the oversize bathrooms. The beachfront bungalows, unsurprisingly, are the most luxurious, with abundant space and doors that open straight onto the sand.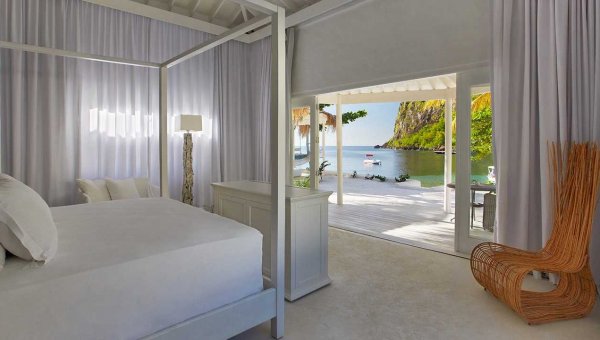 Sugar Beach is the perfect destination for families and honeymooners alike. It is close to all island attractions yet it is private and secluded. Though, the question remains will you ever want to leave the resort as it has absolutely everything you need. From the finest international cuisine to delightfully casual tropical tastes, you'll find exceptional culinary choices at Great Room Restaurant. Don't forget to try perfectly cooked Mahi-Mahi with green fig mash and tropical salsa. The Cane Bar features a professional "rummelier" to aid in the selection of the expertly chosen native and international rums plus a range of decadent dishes to perfectly accompany your chosen libation.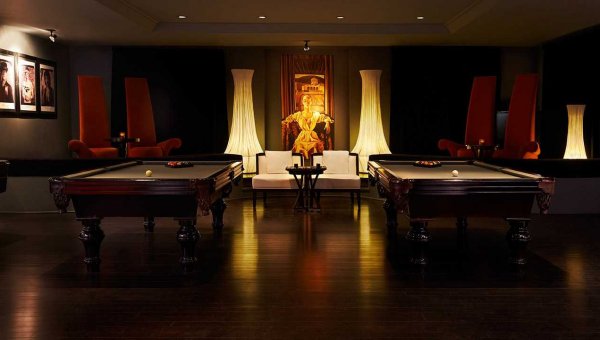 Known as the best luxury spa experience you should spend an afternoon at Sugar Beach Rainforest Spa. From the spa's large thatched-roof entryway, elevated bridges carved in wood lead to seven custom jungle treehouses nestled deep in the rainforest. In your own private hut with walls open to waterfalls filling natural plunge pools, start your rejuvenation with heated lava shell massage where the smooth as silk shells are used on pressure points and deep tissue work to relax the body. Signature treatments include famed bamboo massage, hot rock therapies, facials, body wraps, salt scrubs, polishes, and holistic treatments.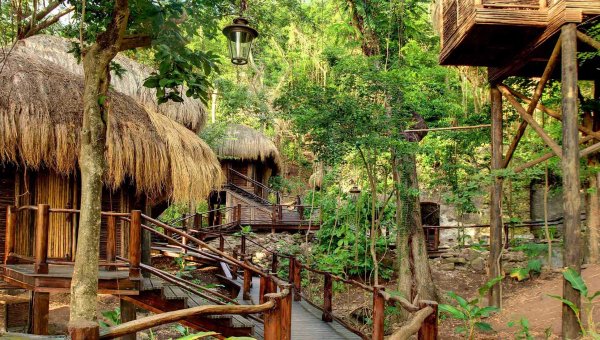 Sugar Beach also offers terrific water sports, including a unique-to-St. Lucia hybrid called Snuba, in which swimmers dip up to 20 feet below the surface with a long hose connected to an air supply—and the unencumbered agility of a snorkeler—as well as actual diving. Explore the beautiful underwater world and enjoy this unique vacation.
If you need more information you can visit the official website of the Sugar Beach, a Viceroy Resort here. If you are interested in tailor made itinerary and insider knowledge please connect with us here.