So you decided to visit Marrakesh, to witness the extraordinary beauty of nature and history combined into one city - the glorious Marrakesh. It is exotic and enchanting. Located under the Atlas Mountain it is one of the four cities of Morocco ancient kingdom. Its history brings special allure to the lifestyle. Explore the city style from one of the ultimate luxury hotels in the world.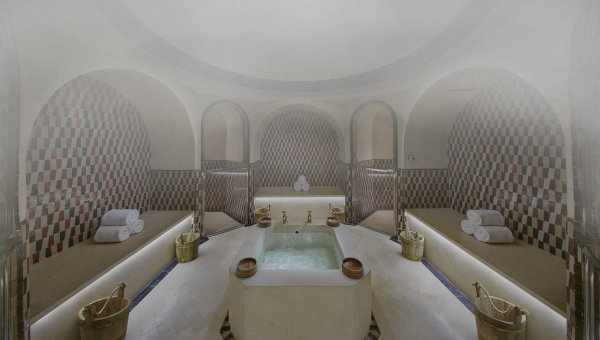 First, we present you Mandarin Oriental Marrakech, it is the luxury escape hidden below Atlas Mountains. It lies nestled in 20 hectares of olive groves and landscaped gardens, beautifully scented with jasmine, night-blooming cestrum and over 100,000 fragrant roses. Only 10 minutes from the city's famous Medina, this elegant, contemporary resort feels a world away in terms of serenity, with just 54 luxurious villas and 9 spacious suites, a world-class spa and excellent dining overseen by celebrated chef Meryem Cherkaoui. Mandarin Oriental Marrakech is the place where Moroccan heritage meets Oriental charm.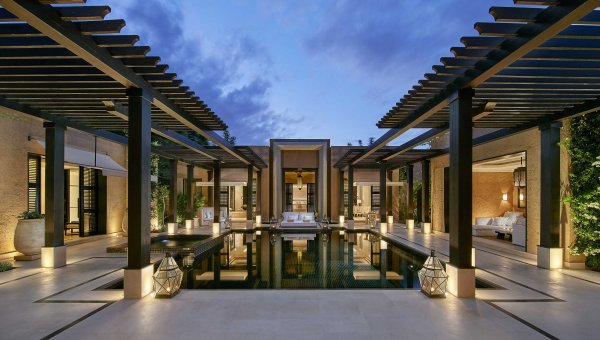 If you need more information you can visit the official website of the Mandarin Oriental Marrakech here.
If you wish more private vacation we recommend staying at your very own villa Ourika. It is a hidden gem in wide center of Marrakech where tradition is combined with modern contemporary design. Playing with architecture, tradition and contemporary design can be seen through every room. Mix of colours and materials give the villa a special atmosphere. Enjoy sunny afternoon next to your private pool overlooking the great Atlas Mountains. It an extraordinary sight.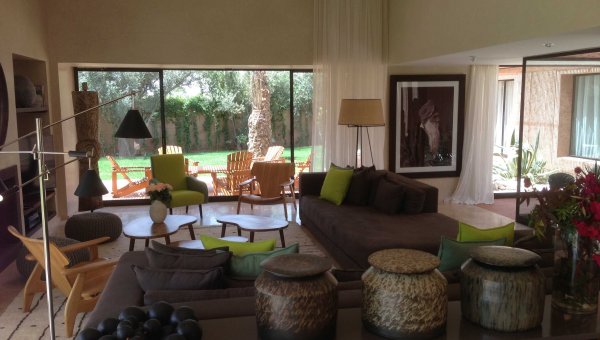 For more out-of-the-city feeling we've chosen the peaceful paradise, the famous Amanjena. It was the first Aman resort in Africa, Located just outside the ancient city of Marrakech. Set within an oasis of palms and olive trees, Moorish heritage is reflected throughout the pisé-walled resort, including the Morocco luxury pavilions that radiate out from an ancient bassin, echoing the style of a sultan's palace. Amanjena offers a variety of guided excursions on foot, bicycle or private car into the medina, the souk and squares, palaces, gardens and craft shops of ancient Marrakech.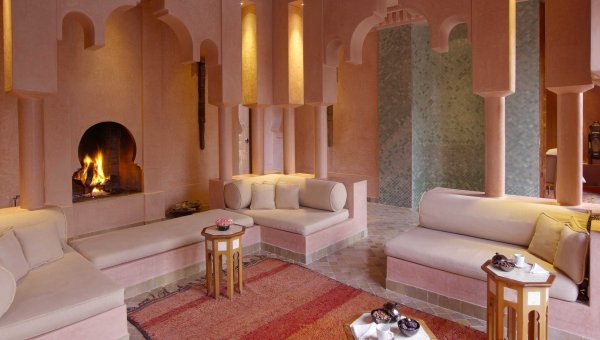 If you need more information you can visit the official website of the Amanjena here.
Close enough to the mesmerising chaos of the medina, exists an intimate oasis of tranquillity and peace it is La Mamounia. Inspired by the Arab-Moorish tradition that infuses so much of Morocco's heritage, the architecture and décor of the deluxe hotel La Mamounia is that of the opulence of times gone by blended seamlessly with the comfort and style of modern luxury. Such a unique combination of style and tradition has attracted some of the world's best-known historical figures and celebrities – from Winston Churchill to Princess Caroline of Monaco – all of whom have enjoyed many wonderful times here. And today, more than ever, the La Mamounia name holds a special place in the hearts of all who have visited her…young and old alike.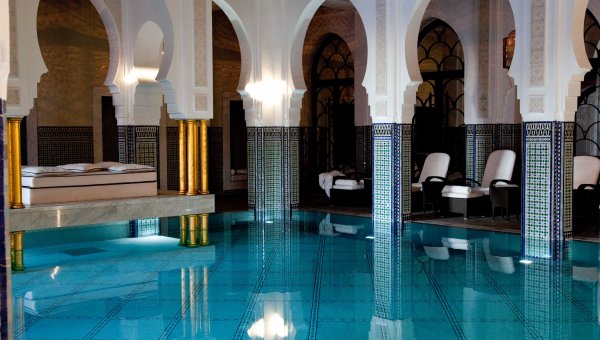 If you need more information you can visit the official website of the La Mamounia here. If you are interested in tailor made itinerary and insider knowledge please connect with us here.